A hug from all the players in the dressing room, a loud applause from the fans, the confidence of his coach… Francis Amuzu was finally able to live his "moment of glory".
A nice statistic : Anderlecht has never lost a match in which Amuzu scored. He made his debut on 22 December 2017 against Eupen under Hein Vanhaezebrouck and immediately scored the only goal of the match. Since then, he has scored 19 times and Anderlecht have won 15 games and shared the spoils twice when the winger scored.
But that's not enough for a striker who has already played 149 first team games. On Thursday he plays his 150th game (and he will probably be honoured). And he is well aware of that. At first he said so in interviews, but in the last two years he has preferred not to talk about it. Going to the press after a game probably meant he would get questions about his efficiency.
Super-pro
And just because he scored three goals doesn't mean the problem is over. Amuzu had a long discussion with Vincent Kompany during the preparation where he started as a starter. But gradually he became a substitute and struggled until the winter break. During the January mercato, many teams came knocking at the door (Marseille, Leverkusen, Wolfsburg, Mainz…), but Kompany managed to convince him to stay by promising to work on his composure.
Kompany then said that the players who were important at the time would not necessarily be the players who would be important at the end of the season. Amuzu listened to his coach. Also because Kompany cited the example of Dries Mertens, who was also a supersub at the beginning of his career.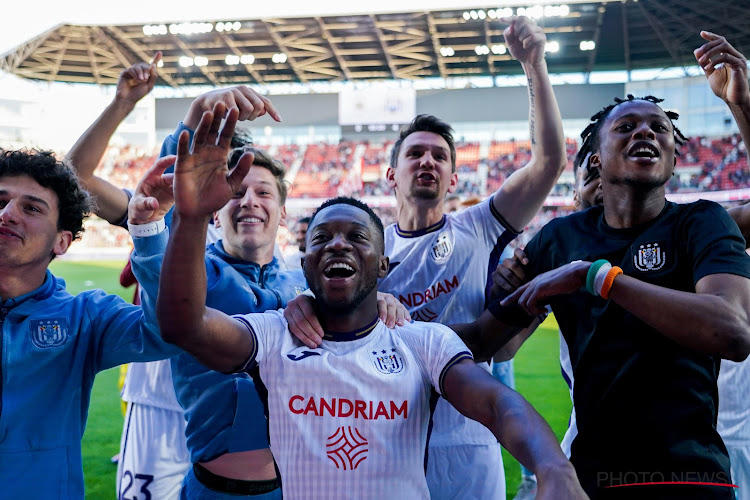 Floribert Ngalula, Kompany's assistant, takes a particular interest in him. Together they spent hours observing and analysing the phases. What needs to be improved, how he can best use his speed, where he should put the ball when he reaches the back line… It's no coincidence that he ran to 'Flo' after each of his goals to jump into his arms.
Within Anderlecht they say he is a super-pro. When Luc Nilis did his internship at Anderlecht for a few weeks, Amuzu approached him to ask him what he could do better. During the holidays he is already on the training field after a few days of rest. When he has difficulties, he goes by himself to the mental trainer.
With his speed, Amuzu could and should hurt any defence. He just needs to click in his head and get rid of his nervousness. "Ciske" is one of the most introverted and shy players in the dressing room. So the technical staff were happy to see him celebrate.
The qualities are there
Amuzu is one of those players who needs confidence. His performance on Sunday guarantees him a few more games in the starting line-up and if he can be decisive… maybe the train will be on its way.
The qualities are there. His first goal against Antwerp was flashed at 112 km/h. "112 ? No," Amuzu replied when asked. And added in a shy voice: "Oh dear, I shot from inside."