It seems that his Racing season is following its own shape curve : after months of injury and doubts, Genk's left flank comes out of the water and bets on the Play-Offs 1, with Vincent Kompany, the genocide in Congo, Robbie Rensenbrink and the Red Devils on his 7 million sign. But also God, the Football Gate, his alleged arrogance, the Englishman of Mazzù and Kara Mbodj. Not forgetting Call Of Duty. And especially Eden. Théo Bongonda plays "On the Grill".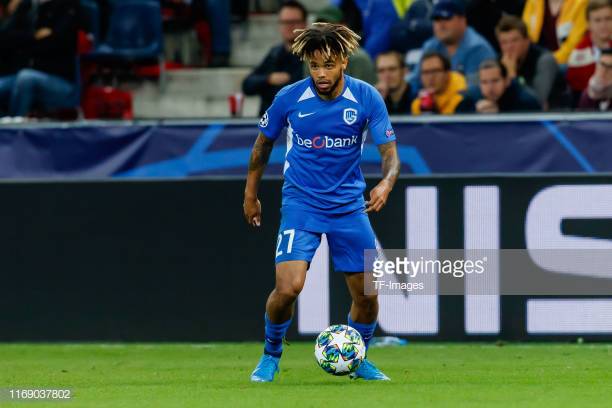 Dreadlocks in battle, soft t-shirt revealing his forearms tattooed to the bone, he shows up a little late to the appointment. But he has his good reasons: it's been a busy morning, with training, the collective meal… and above all, prayer.
"I have been praying five times a day since I was 14 years old, I am a Muslim" explains Theo Bongonda. "I won't tell you what I pray about, it's my and God's business: everyone finds his or her motivation, I do it because I have to do it and I do it for myself, but it allows me to put things in their right place. And no, I don't pray to know if Genk will be in Play-Offs 1! (laughs) I'd like to know, but it's not my decision. Even if on the field, it's true, I have my little role to play. But now we're getting into another debate…" (laughs)
"The land that speaks"
It's a very hot debate in full swing, as the competition is fierce and the forecasts are open, without necessarily leaning towards the Limburgers. Because the Genk calendar is merciless: after Zulte and Ghent since the takeover, Racing will almost follow Charleroi, Antwerp, Standard, Bruges and Mechelen !
"It's clear that I would have preferred another calendar, but I see it as a good challenge to situate the team's progression. I have a good feeling, we're going to have some interesting matches: so far our stats are not good against the top 6, but one match is not the other and anything can happen. We're preparing with the right spirit, and for the rest it's the pitch that speaks for itself. I don't care if we deserve these Playoff 1's, I don't care, as long as we're there. But it's true that with this mercato that made us lose Samatta and especially Berge, a fantastic player, it's not going to be easy. "
"With the look on my face, I knew I wouldn't be missed…"
Bongonda has been labelled since last summer as "the most expensive transfer between Belgian clubs in history" with 7 million euros, and does not want to hide behind this label to explain its delay in ignition.
"I was injured and I had private problems until November: since they've been settled, I've been playing more freely and it shows. It's normal that with such an amount of money on your head, they're waiting for you at the turn. But with the head I have (sic), my look, my whole character and my style which is not the simplest (re-sic), I knew I wasn't going to be missed. I always have to do twice as much as the others to be judged at my true worth, but that's the way it is: critics motivate me. I've worked so hard in my youth to be there, I've been through so much that nothing can destabilise me anymore. Criticism makes me laugh, because I know I'm worth it. If Genk took out the checkbook for me, it's because he thought I was worth it. In Belgium, I know I'm not the type of player who likes me the most, but I don't care about external recognition: I'm there to give and the only look that counts is that of my family. Arrogant, me? Not at all: I believe in myself, because those who don't believe in themselves can't do it. And if I said the opposite, you would tell me that I have no ambition? "
"Robby ? Don't know…"
After his crazy season at Zulte Waregem ("It's my real club at heart, that's where I knew everything and where I started again"), scored by 14 goals and 14 assists, the winger-dribbler was courted by the 3 big Belgian clubs and is often associated with the Anderlecht DNA: technique, showmanship, victory.
"Rensenbrink ? Who's Rensenbrink ? Sorry, I don't know, I've never heard that name…" he is surprised when confronted with the man who turned Belgian football upside down in the seventies. "You're telling me I have a similar profile, a poster boy who can make a stadium stand up and win a match on his own ? I don't know, I'm just trying to do what I know. I have a different style from the others, so I'm just trying to express it. As for the rest, I'm in my own world and I'm making my own way. I made physical progress in Genk, I have more race volume, because it's true that before, I tended to rely on my technique. Now I'm not yet at the maximum, but the best is yet to come and I know that it's going to do it. Given the circumstances, the Champions League this year is bound to leave me hungry… but I intend to play it again, inch'Allah ! I want to go abroad again one day, and Spanish football always makes me dream. But before dreaming, you have to take a loan ! 
"My favorite jersey is… mine."
Because our bird has already known 3 seasons in the Liga : enough to fill his address book and his cupboard of memories.
"With Celta Vigo under Eduardo Berizzo, the best coach of my career, we beat Barcelona and Real Madrid. I don't know if I managed to dribble Lionel Messi (laughs). But what I do remember is seeing the Argentinian eliminate one of my team-mates with a simple body trick… before I even got the ball. I was two metres away from him and I couldn't believe it. That night we lost 6-1… I chatted with players like Benzema, Griezmann and Marcelo, I enjoyed playing against them and maybe one day I'll play… with them! (smiling). I've got their shirts in a cupboard at home… but my favourite shirt is mine! When I was a kid I tried to imitate Cristiano Ronaldo… but now I play the way I want ! Even if I'd reincarnate as Neymar! Me, I like crazy people, and he's too strong. I see the player, not the man : I don't care about his life. I don't care about the money, the star quality, the bling-bling, I'm not interested ! It's like the death of Kobe Bryant : I don't know anything about basketball, it's a terrible drama, but people die every day. And I haven't seen this much reaction to the genocide in the Congo…"
"Zidane rolled down his window and congratulated me…"
In Santiago Bernabeu, Theo Bongonda came across another phenomenon : a certain ZZ. Like Zinedine Zidane.
"During a stoppage, I was waiting on my side, in front of his little rectangle. I turned to him and said: 'Zizou, you're a big man'. After the match, I was waiting for a taxi, a car stopped, the window came down, it was… Zidane. He said, 'You're a good player, keep it up'. I couldn't believe it! He's a great man: I'd rather be recognised by a Zizou than by the whole of Belgium! "
In Genk, Bongonda plays under another renowned coach… by proxy. In Dortmund, youth coach Hannes Wolf was mentored by Jürgen Klopp.
"He talks about it sometimes… but not too much : Wolf has his own accents and wants to make his own way. It's a pity that Felice Mazzù ended up here : he and I were a good match, and that could have done it for him here. But there were too many expectations after the championship and taking over was difficult for him. The language was probably a handicap : with all due respect to Felice, he probably should have been more prepared for the use of English. In Charleroi, they only speak French, I'm in a good position to know that… " (Editor's note: Bongonda is from the Black Country)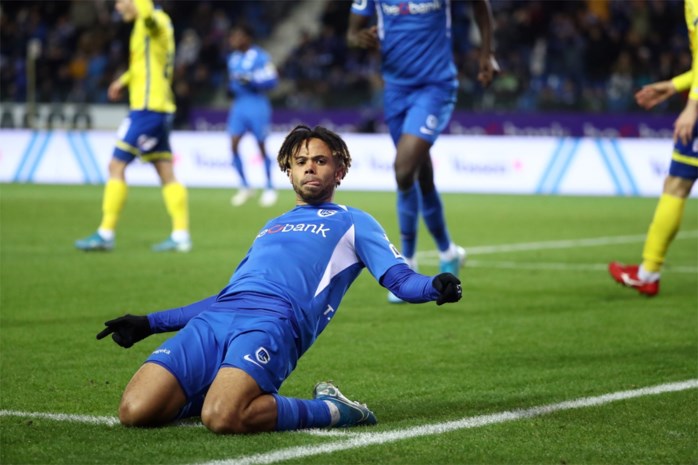 "There's nothing more to learn on a technical level…"
Back in Belgium to get back on track after his failure at Trabzonspor ("In Turkey, football is politics, I was dismissed without explanation after 3 matches … but every day I still receive messages from fans asking me to come back one day, this morning again Turks from Genk told me at the store, I do not know what I did to them," he laughs), Bongonda had found his marks in the Waregemois box that had hatched him. When he was very young, in a test session with his friend Jason Denayer, he even refused to sign… in Manchester City.
"It was to play in the B team… and I wanted to play in the first team ! After the 6 years spent at the Jean-Marc Guillou Academy, juggling barefoot, 6 days a week, even in winter, I had nothing left to learn on a technical level. Before joining Guillou, I had a disgusting technique, not even capable of making a right pass ! I'm not saying I'm the best ! I'm just saying that difficult balls don't scare me any more. In Belgium, I don't know all the players, but the most ball-breaking defender was Kara Mbodj : how hard he was ! Vincent Kompany also impressed me this year… but I dribbled him a few times. "(smiling)
"'Old' Eden, if he tells me to shut up, I'll shut up…"
Will the two men ever meet again in the Devil's house? Multi-cornered in the Devils, Bongonda doesn't evade the subject. Especially as on "his" left flank evolves a certain Eden Hazard…
"Of course I'm thinking of the Devils, but Roberto Martinez decides, not me… I'm probably getting into the right age, but I have to show it on the field. And then, given the competition, I'll have to make my hole little by little. Old Eden' (he winks), I'm not going to say that I'd be happy to polish the bench behind him, but he makes me salivate: even if he plays ten bad matches, I forgive him everything, he's so strong. If he tells me to keep my mouth shut, then I'll keep my mouth shut! But he's the only one. " (laughs)
"Glad I wasn't born with my ass in the butter."
Already the subject of 5 transfers at just 24 years of age, Bongonda has always had itchy feet. But not at any price.
"I move around a lot, it's true, but I'll have the opportunity to rest after my career. (laughs) Money isn't my driving force : I could have gone to Egypt to make a fortune, but I look first at the well-being of my family. I grew up in an environment with values, I never had my ass in the butter… and so much the better : I know what it's like to live with little and I don't want to waste my life for a few thousand or even millions of euros. This week's raids still show the ugly side of football : I play my own games but for the rest I don't go to this world. And if you get in over your head with everything that's going on, you die of a stroke (sic). What I've got, I went and got it myself and I don't owe anything to anyone. Me, at night, I go home, I look at my kids and I have fun at Call Of Duty. I'm very good at it by the way. " (laughs).
All he has to do now is score points to put Genk in the Play-Offs. Then he'll have to score some points to get caught in the Devils. In the meantime, he rates the interview: "It was nice, you're not boring like the others! " (laughs)
We took it as a compliment.
source www.rtbf.be