Gnégnéri Yaya TOURÉ dit Yaya TOURÉ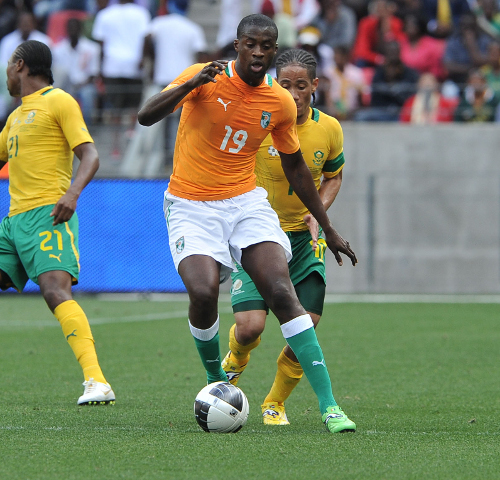 | | |
| --- | --- |
| | Côte d'Ivoire |
Born : May 13, 1983
Height : 1,88m (6′ 2″) – Weight : 78 kg (188 lb)
Feet : Right
Position : Midfielder
Ivoria International A (102 selections)
Club 
 : Olympiakos
Season
Club
Matches played (Goals)
2001-2004
KCK Beveren (Belgium)
70 (3)
2004-2005
Metalurg Donesk (Ukraine)
39 (5)
2005-2006
Olympiakos (Greece)
32 (3)
2006-2007
AS Monaco (France)
27 (5)
2007-2010
FC Barcelone (Spain)
117 (6)
2010-2018
Manchester City (England)
300 (81)
2018-
Olympiakos (Greece)
About Yaya
Strong character and very serious on the field, he was a boy who was always funny and mocking, who made his friends a little afraid, even when he laughed at everything, at everyone, because he was already physically endowed with a certain strength, however thin and thin he was.
On the field he was already a sentinel who did not hesitate to come and help his defence. When the attack was in difficulty or procrastinating, he often took the game on his own, slalomed from his initial position to eliminate opponents and go score, while galvanizing the rest of the team.
Off the field, when his friends of his generation could no longer stand his mockery, it was not uncommon to find him among the youngest of generation 3 where he felt really well, laughing as if he was the same age as them…
He was a boy with two different personalities; funny and facetious off the pitch as the green rectangle transformed him into a serious and determined leader.
IN CLUB
Season
Club
Title
2005-2006
Olympiakos (Greece)
Greek Championship
2005-2006
Olympiakos (Greece)
Greek Cup
2008-2009
FC Barcelone (Spain)
Champions League
2008-2009
FC Barcelone (Spain)
Spanish Championship
2008-2009
FC Barcelone (Spain)
Club World Cup
2008-2009
FC Barcelone (Spain)
Spanish Super Cup
2009-2010
FC Barcelone (Spain)
Spanish Championship
2010-2011
Manchester City (England)
Winner of FA Cup
2011-2012
Manchester City (England)
England Championship
2011-2012
Manchester City (England)
Winner of the Charity Shield
2012-2013
Manchester City (England)
England Cup
2013-2014
Manchester City (England)
English Championship, League Cup Winner
2015-2016
Manchester City (England)
League Cup Winner
2015-2016
Manchester City (England)
Semi-finalists of the Champions League (UEFA)
2017-2018
Manchester City (England)
English Championship, League Cup Winner
IN SELECTION
Year
Participations
 2006 

Participation in the World Cup (Germany)
Finalist of the CAN (African Cup of Nations)

2010 

Participation à la Coupe du Monde (Afrique du Sud)

2012 

Participation in the World Cup (South Africa)

2015 

Winner of the CAN (African Cup of Nations)
PERSONAL REWARDS
Year
Rewards
 2008 

Ivorian Player of the Year

2009 

Ivorian Player of the Year

2011 

Ivorian Player of the Year

2012  

Ivorian Player of the Year
Appointed to the Premier League's senior team

2013  

Ivorian Player of the Year
BBC African Player of the Year

2014  

Ivorian Player of the Year
Appointed to the Premier League's senior team

2015 

BBC African Player of the Year

2009-2012-2014-2015

Named in the list of the 23 best players for the Golden Ball
| | |
| --- | --- |
| | Côte d'Ivoire |

Born : May 13, 1983
Height : 1,88m (6′ 2″) – Weight : 78 kg (188 lb)
Feet : Right
Position : Midfielder
Ivoria International A (102 selections)
Club  : Olympiakos

Season
Club
Matches played (Goals)
2001-2004
KCK Beveren (Belgium)
70 (3)
2004-2005
Metalurg Donesk (Ukraine)
39 (5)
2005-2006
Olympiakos (Greece)
32 (3)
2006-2007
AS Monaco (France)
27 (5)
2007-2010
FC Barcelone (Spain)
117 (6)
2010-2018
Manchester City (England)
300 (81)
2018-
Olympiakos (Greece)

About Yaya

Strong character and very serious on the field, he was a boy who was always funny and mocking, who made his friends a little afraid, even when he laughed at everything, at everyone, because he was already physically endowed with a certain strength, however thin and thin he was.

On the field he was already a sentinel who did not hesitate to come and help his defence. When the attack was in difficulty or procrastinating, he often took the game on his own, slalomed from his initial position to eliminate opponents and go score, while galvanizing the rest of the team.
Off the field, when his friends of his generation could no longer stand his mockery, it was not uncommon to find him among the youngest of generation 3 where he felt really well, laughing as if he was the same age as them…
He was a boy with two different personalities; funny and facetious off the pitch as the green rectangle transformed him into a serious and determined leader.

IN CLUB

Season
Club
Title
2005-2006
Olympiakos (Greece)
Greek Championship
2005-2006
Olympiakos (Greece)
Greek Cup
2008-2009
FC Barcelone (Spain)
Champions League
2008-2009
FC Barcelone (Spain)
Spanish Championship
2008-2009
FC Barcelone (Spain)
Club World Cup
2008-2009
FC Barcelone (Spain)
Spanish Super Cup
2009-2010
FC Barcelone (Spain)
Spanish Championship
2010-2011
Manchester City (England)
Winner of FA Cup
2011-2012
Manchester City (England)
England Championship
2011-2012
Manchester City (England)
Winner of the Charity Shield
2012-2013
Manchester City (England)
England Cup
2013-2014
Manchester City (England)
English Championship, League Cup Winner
2015-2016
Manchester City (England)
League Cup Winner
2015-2016
Manchester City (England)
Semi-finalists of the Champions League (UEFA)
2017-2018
Manchester City (England)
English Championship, League Cup Winner

IN SELECTION

Year
Participations
 2006 

Participation in the World Cup (Germany)
Finalist of the CAN (African Cup of Nations)

2010 

Participation à la Coupe du Monde (Afrique du Sud)

2012 

Participation in the World Cup (South Africa)

2015 

Winner of the CAN (African Cup of Nations)

PERSONAL REWARDS

Year
Rewards
 2008 

Ivorian Player of the Year

2009 

Ivorian Player of the Year

2011 

Ivorian Player of the Year

2012  

Ivorian Player of the Year
Appointed to the Premier League's senior team

2013  

Ivorian Player of the Year
BBC African Player of the Year

2014  

Ivorian Player of the Year
Appointed to the Premier League's senior team

2015 

BBC African Player of the Year

2009-2012-2014-2015

Named in the list of the 23 best players for the Golden Ball